Woman, 61, fighting to stay alive after Texas hospital pulls life support against family's wishes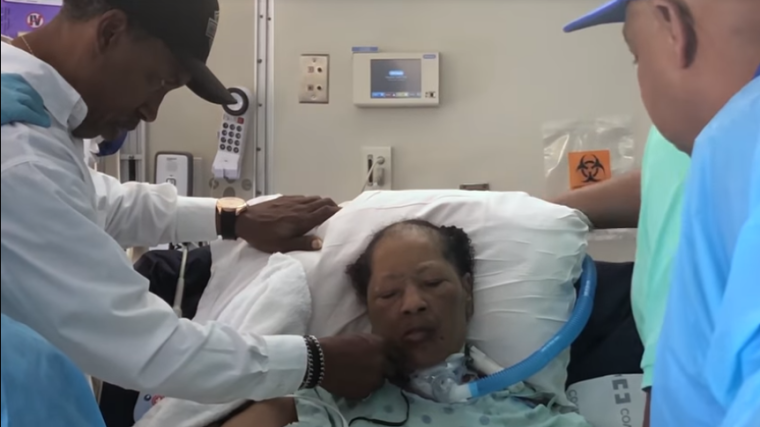 A 61-year-old Texas mother is now fighting to stay alive two days after a local hospital removed her from life support against her family's wishes after declaring their efforts to save her life futile under the 1999 Texas Advance Directive Act.
The law allows health care facilities to discontinue life-sustaining treatment ten days after giving written notice if the treating medical team considers further life-sustaining treatment futile.
The mother, Carolyn Jones, had been living with the help of a ventilator at Memorial Hermann Southwest Hospital in Houston for the last six months and gave her until May 13 before they pulled the plug, her daughter Kina Jones told 12NEWS. Two days later however, Carolyn Jones is still fighting to stay alive after suffering a stroke in 2017.
"They've refused all requests to wing her off of the ventilator and to try breathing on her own," Kina said of the medical team. "They were just saying she's not stable enough or she's in a critical condition."
In an appeal Tuesday seeking to raise $50,000 to help keep the defiant mother alive, Texas Right to life said: "Carolyn was originally 'scheduled' to die on Monday when the hospital used the abominable 10-Day Rule to shut down her ventilator. And when that didn't work (didn't kill her), hospital administrators withheld dialysis from the conscious woman. (Carolyn was undergoing dialysis before her hospitalization.)"
"If they don't give her dialysis …, she's going to succumb to the fluid in her," Kina told 12News.
"This is not right for people to be able to make a decision for anyone to live or die when they are alive," Donald Jones, Carolyn's husband added.
While they were not able to comment specifically on Carolyn's case due to patient privacy laws, Memorial Herman Southwest Hospital said in a statement to 12NEWS that "we are committed to delivering patient-centered care and respecting the rights of our patients and their loved ones."
"We understand how painful it can be when difficult medical decisions must be made, and our hearts go out to families in these circumstances. End-of-life decisions are made by physicians after careful and thorough consultation with patients, their families, the healthcare team, and a medical ethics committee. The decision-making process is outlined in Texas law and can take many months. The law provides a tool to balance the tough choice between carrying out patients' and families' wishes and the ethical duty not to increase or prolong patients' suffering," the statement said in part.
A GoFundMe campaign is now seeking to raise $35,000 to help keep Carolyn alive.
"Carolyn Jones is STILL ALIVE! Now the family faces another heartless act by Memorial Hermann Hospital Southwest campus refusing to give dialysis care EVEN THOUGH she is still alive and responsive. There have been a facility to come forth and agree to accept Mrs. Jones and provide care but this requires funding... please find it in your heart to help Mrs. Jones stay alive and beat the 10-day rule!!" the campaign which had raised just under $1,000 as of Wednesday morning said.
On Tuesday, the Texas Senate approved a bill that would give families that disagree with a hospital's decision to withdraw life-sustaining treatment from a gravely ill patient up to 45 days to find a different hospital or health care facility instead of the current 10.
"Everyone, I think, agrees: That is not long enough," Mineola Sen. Bryan Hughes said, according to the Texarkana Gazette. "Many times these folks are at the end of their lives, and so their families, rather than spending time in communing with them, praying with them and enjoying their company, instead their families are fighting feverishly to keep them alive, calling hospitals, calling doctors, trying to find someone who will take their loved one and allow them to pass away naturally."
Hughes said Texas' 10-day rule is among the shortest such time constraint among similar legislation nationwide and noted that his bill would move Texas to the middle ground.
He said cases involving families and hospitals disagreeing over the application of the law is very rare.
"Most hospitals and doctors in Texas are not taking advantage of this law," he said. "We are blessed with wonderful hospitals filled with caring people, physicians, nurses, all kinds of professionals unfortunately, because of holes in the law, there are a few places where these cases continue to arise."
The bill had initially proposed requiring treatment be provided indefinitely but studies, he said, show that 45 days would be enough.
"Of all the cases we're aware of 45 days would be long enough to transfer each one of those people or for them to die a natural death," he said. "These families aren't expecting miracles, but they don't want their loved ones' deaths to be hastened by the withdrawal of life-sustaining treatment."